Mitchell Starc didn't give the critique much thought. In the lead-up to the 2021 Ashes, he's improving his bowling form. He also brushed off the criticism, noting that he has been hearing it for years. Mitchell was also under a lot of scrutinies prior to the Ashes. And because of his poor performance against India in the home series and in the T20 World Cup 2021. Shane Warne and Mitchell Johnson, both Australian legends, had pushed for Jhye Richardson's participation. For the Gabba Test, ahead of Starc. The 31-year-old got Australia off to a flying start in the Ashes. The first ball was used to clean up Rory Burns. And in response to criticism following Australia's 147-run first-innings victory over England.
"I have been hearing it for 10 years. So it is nothing new. That's about 210 games ago," Mitchell Starc said.
"Nice to see it swing, and a nice way to start the day, I guess. You can say I carried on (with the celebration). But that's Ashes cricket. To be playing at home in front of the crowd, kickstart the Ashes series. There were a few emotions going around, and a lot of smiles," he added.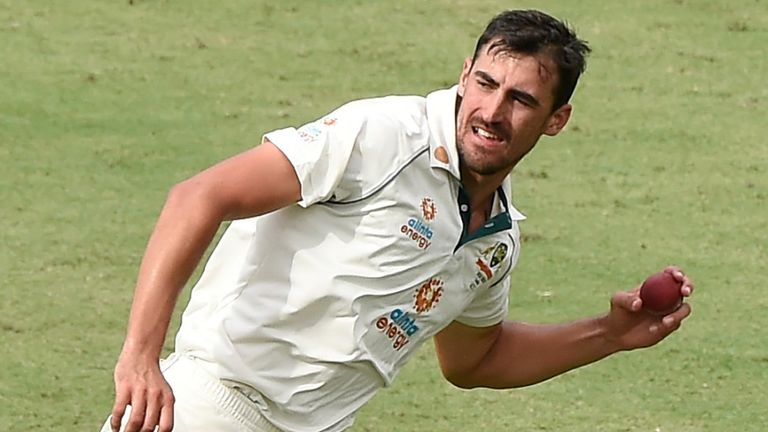 Mitchell Starc
Lastly, asked about the delivery to get rid of Burns with the first ball. Mitchell said that he was on the money first up, which is what he looked to do. On his penchant of getting wickets early in his spell.
"I'd love to sit here and say that's how I drew it up, bowl him around the legs, just swing it in. There is no secret that the way I got about my bowling is attacking and aiming for those stumps. The yorker is a big part of my game, but I for it is about trying to bowl fast and swing it in. That's part of how I ball. It was nice to see it come off today," Mitchell Starc said.
Read more: Ashes Test Series: Ricky Ponting praises for Mitchell Starc
Visit also: Ashes Test: England got off to the worst possible start in the Ashes 2021-22 series