Harbhajan Singh says "They played with Virat Kohli's ego" in T20 World Cup 2021. Harbhajan believes the New Zealand spinners played with Virat Kohli's ego. It is to dismiss him in the T20 World Cup 2021 encounter between the two sides. Kohli just scored nine runs off 17 balls. In addition, India was limited to a modest 110/7 in their allotted 20 overs. Virat, who batted at No. 4, was held in check by the Kiwi spinners throughout his innings. Whereas reflecting on Virat Kohli's dismissal during a discussion. Harbhajan highlights that the Kiwis had played with the Indian batting mainstay's mind.
"They played with Virat Kohli's ego. They said that they will not give him the runs, if you come at the start and play the big shot, it's fine but they will not give the singles. When you hurt a big player's ego by not giving the singles, they play a shot like Virat Kohli played today," Harbhajan Singh said.
"Virat Kohli's shot is not his natural game. He tried what he doesn't do. If he had hit the same ball over cover or played after stepping out, I feel that would have been a better option," Harbhajan added.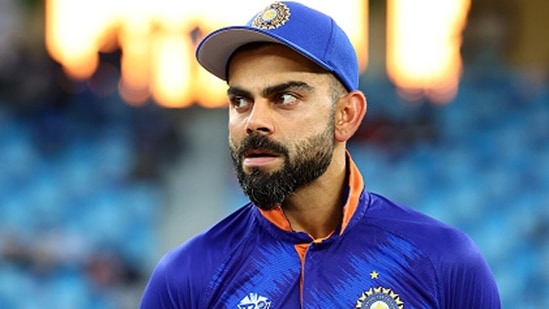 Virat Kohli
"Normally, Virat Kohli's singles cannot be stopped. But today, Virat Kohli did not have the space to take singles. Credit to New Zealand's field settings and the way Mitchell Santner and Ish Sodhi bowled, they didn't give the easy singles, because of that they forced Virat Kohli to play that shot which he never plays," Harbhajan Singh also said.
Lastly, Virat Kohli didn't hit a single boundary during his knock. He failed to open his account in the first five deliveries he faced and didn't score a run in 10 of the 17 balls he played overall. Irfan Pathan showered praise on the New Zealand spinners for not feeding Virat Kohli in his strong areas.
Read more: Dinesh Karthik says "I do hope that people have some empathy" in T20 World Cup 2021
Visit also: Dinesh Karthik- "I do hope that people have some empathy" in T20 World Cup 2021