Ashes Test Series: Joe Root will be under increased scrutiny, according to Ricky Ponting. More than ever before during the ongoing Ashes tour. Before the Ashes series, Root had been in outstanding form for England. Which starts on the 8th of December. England is relying on Root due to a shaky top order. Despite the fact that Ben Stokes will be back for the five-Test tour to Australia. Root would be under pressure during the series, according to Ponting. Despite his recent form, England's top order is "fragile."
"I think there's probably more pressure on him now than ever because he hasn't got the class of players around him that he has on other tours as well. I think they'll probably say the same about us, but I think their top order looks pretty fragile, to be honest," Ricky Ponting said.
"For Joe, no doubt, if the top order doesn't get off to a good start early in the series, just more and more pressure mounts on him," Ponting added.
Ashes Test Series: Furthermore, Joe Root has been in fabulous form this year. Also, with brilliant series in Sri Lanka and India. And followed by a great home series against India. He went on to explain why the England captain has had a sudden improvement in performances.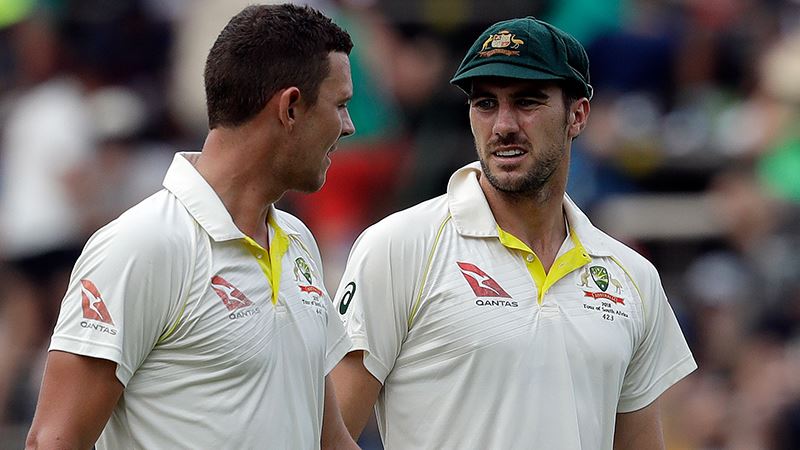 Pat Cummin and Josh Hazlewood
"Lastly, Pat and Josh were all on him in the previous series. He was moving, attempting to make time by moving early, yet moving early as a batsman can often result in you giving yourself less time. That was something I always struggled with as well because I had a strong forward and across movement onto my front foot, which I was always trying to avoid near the end of my career," Ricky Ponting said.
Ashes Test Series: "When you look at what Joe is doing now, you'll notice that he's not moving as much and is moving a little later, which allows him to create more time for himself. He's improved his pick-up and is in a better position when the ball is released, and he's had a fantastic 12 or 18 months," Ponting added.
Read more: India vs New Zealand: Sanjay Bangar says "Mental error"
Visit also: Twitterati fumes says "And he Umpires" after umpiring blunder to rule Virat Kohli out in Mumbai Test