Michael Vaughan says "It will be difficult for Mumbai Indians to qualify" in the Indian Premier League. Vaughan doesn't think the Mumbai Indians will qualify for the IPL 2021. Rohit Sharma's group has had an intense second leg of the IPL 2021 season. They are put seventh within the points table. He believes MI's biggest problem has been their out-of-form batting line-up. Also, Ishan Kishan and Suryakumar Yadav have failed to remain consistent with the bat. It has affected their season match recently.
"It is difficult for Mumbai now because if they beat Rajasthan, then they have to depend on Rajasthan to beat KKR which is probably not going to happen," Michael Vaughan said.
"You never know with Mumbai. They are probably one team that could sneak in. But it's a long shot. They just haven't played well. Their batting in the UAE has just not arrived.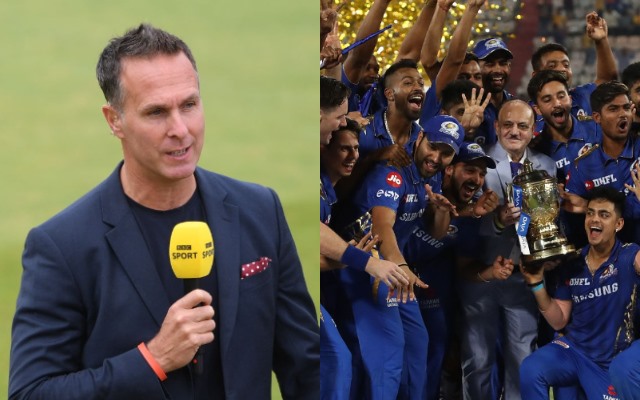 Michael Vaughan
"Ishan Kishan and Suryakumar Yadav, don't know where their form has gone. They just haven't been the team that we all have come to expect," Vaughan added.
Lastly, Michael Vaughan feels that for the last couple of games. While Mumbai Indians should focus on playing their core team. Hence, to win them the title last season. Vaughan believes the likes of Kishan can find form. Also, needs to be shown faith in. If Mumbai sticks to their core, Vaughan thinks there is a slim but genuine chance for them to qualify.
"MI should absolutely go back to the core team. You got two chances to still qualify. Just go back to what they know in terms of the batting line-up. Everything that they thought would work for them at the start of the UAE leg goes right back to that core," Vaughan said.
"I do see the likes of Ishan Kishan and Suryakumar Yadav could find form because they are good players. Just stick with that combination," Michael Vaughan concluded.
Read more: Ziva Singh Dhoni, the daughter of CSK skipper MS Dhoni had enjoyed the IPL 2021 game between CSK and DC match
Visit also: Ajit Agarkar has criticized the Delhi Capitals' decision to send R Ashwin against Chennai Super Kings: IPL 2021