Stephen Fleming defends MS Dhoni "It was no lack of intent" in IPL 2021. Captain MS Dhoni of Chennai Super Kings managed to score just 18 runs from 27 balls. During his stint at the crease against the Delhi Capitals. At the Dubai International Cricket Stadium last Monday. While he received flak from many fans for his slow knock. Stephen Fleming defended the wicketkeeper-batsman. After the game, Fleming pointed out how MS Dhoni was not the only batter to struggle. He claimed the conditions were difficult to bat in. Also, hence both sides struggled to up the ante towards the end of their innings.
Irfan Pathan posted on Twitter
The New Zealander also confessed. Also, that the three-time champions fell about 10-15 runs shy of a match-winning total in the crucial contest. Stephen added how evaluating the conditions at the three. Then venues are paramount for prospering in the UAE.
"MS Dhoni wasn't the only one who struggled. It was a difficult day for strokeplay. I think it was a tough wicket to score big on in terms of the big shots. Both teams struggled with that towards the end of the innings. Sometimes you set your sights too high, and probably we were only 10-15 runs short of having a match-winning score," Stephen Fleming said.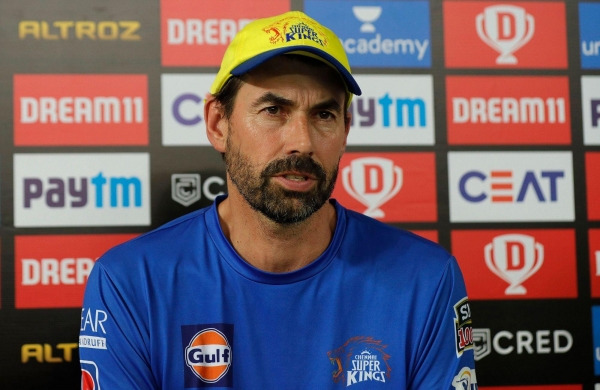 Stephen Fleming
He clarified that there was no lack of intent from the CSK batsmen. Fleming cited smart bowling from the Delhi bowlers as a reason for CSK's difficulty. Also, in scoring runs at a frantic pace towards the end.
"So, the difficulty at the moment is to assess what the conditions are in all three different grounds and, batting first, getting a score that is par or just above. It was no lack of intent, it was just we had to stabilize after a couple of mistakes, and then we were reasonably well-placed for 150. The other thing was their attack bowled very well in the last five overs. They were very smart, so it was tough going."
Read more: Aakash Chopra considers Shivam Dube's constant barring in IPL 2021
Visit also: Ravichandran Ashwin previews DC's clash against CSK- "Expecting a batting dish out game" in the IPL 2021